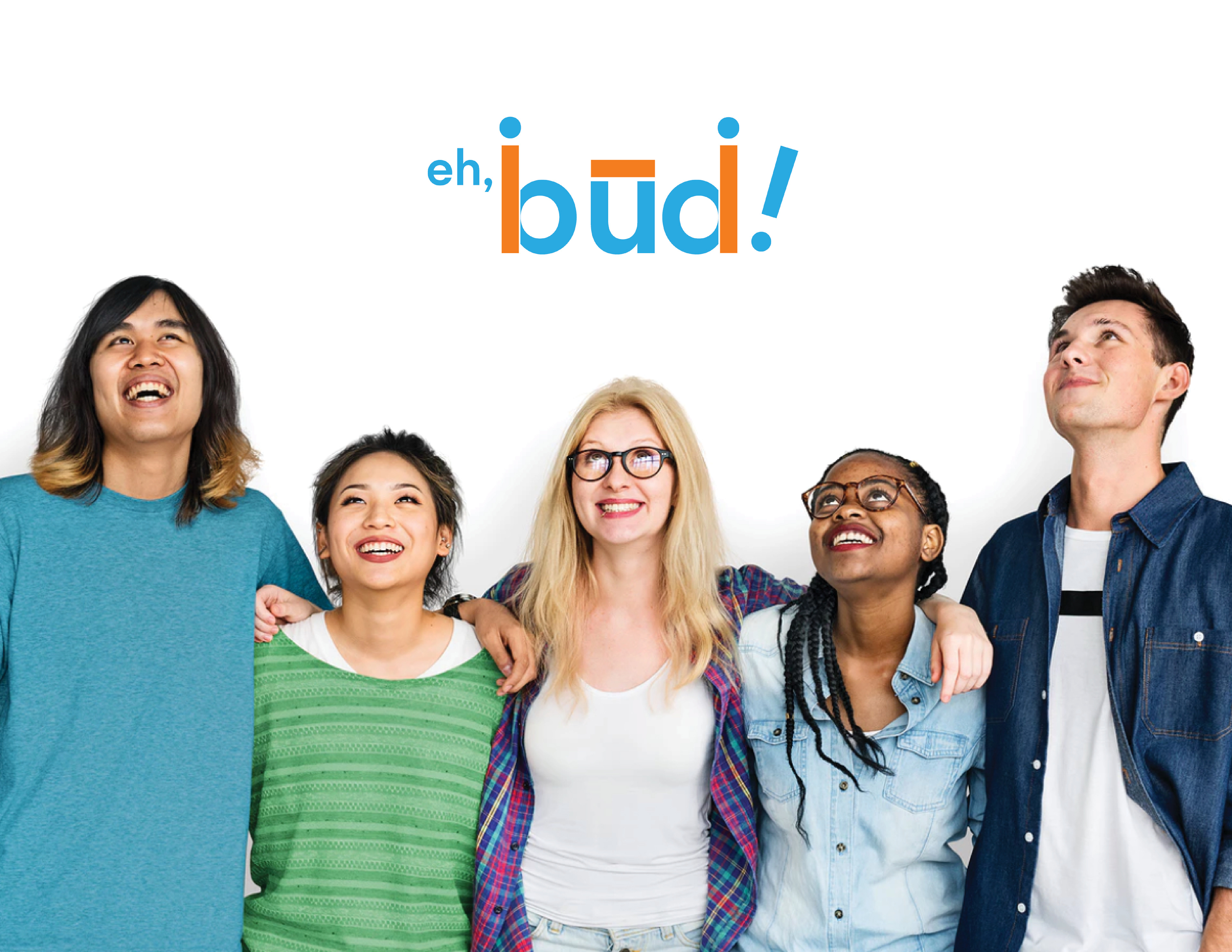 Eh, bud! Is a buddy-pairing service that matches newcomers in Canada specifically immigrants, refugees, and asylum-seekers from the age of 18 to 35 with Canadian locals and integrated newcomers.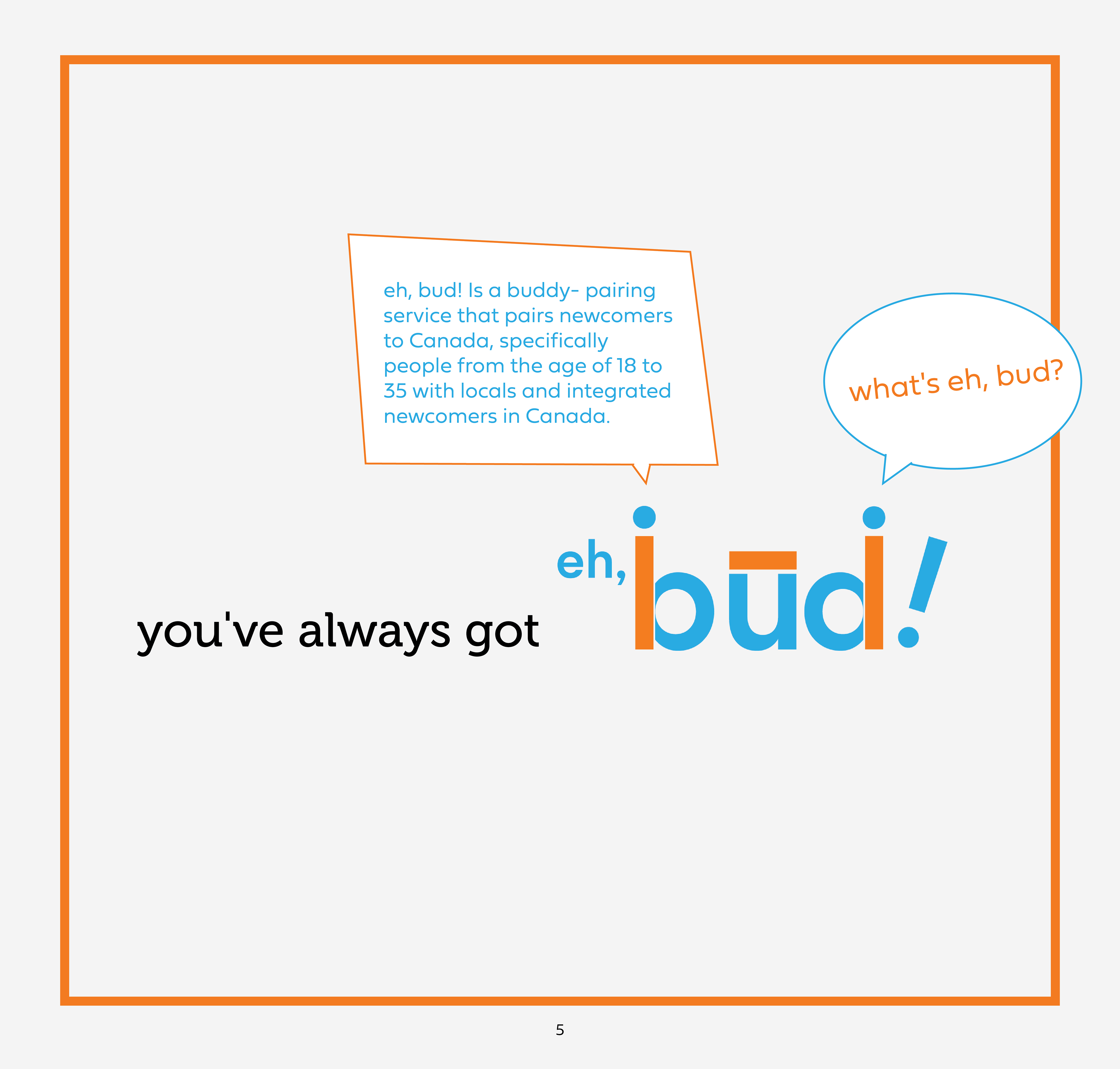 Eh, bud! is a project made with the goal of lessening the effects of loneliness amongst a specific group in society. In this case this project is a service that aims to improve the mental and physical needs and access to services amongst newcomers in Canada to eliminate and lessen the effects of loneliness amongst newcomers. Why? Because loneliness is very real and is major hurdle for newcomers to overcome to better integrate themselves into society. As an immigrant myself, I saw the importance of developing relationships in order to grow and adapt to new surroundings in Canada. 
The problem is not the lack of services to help them integrate themselves but better into society because there is an abundance of services,  i.e., Migrants Organize, HostNation, and my personal favourite ISANS. The problem is not knowing where to seek out help to access these services.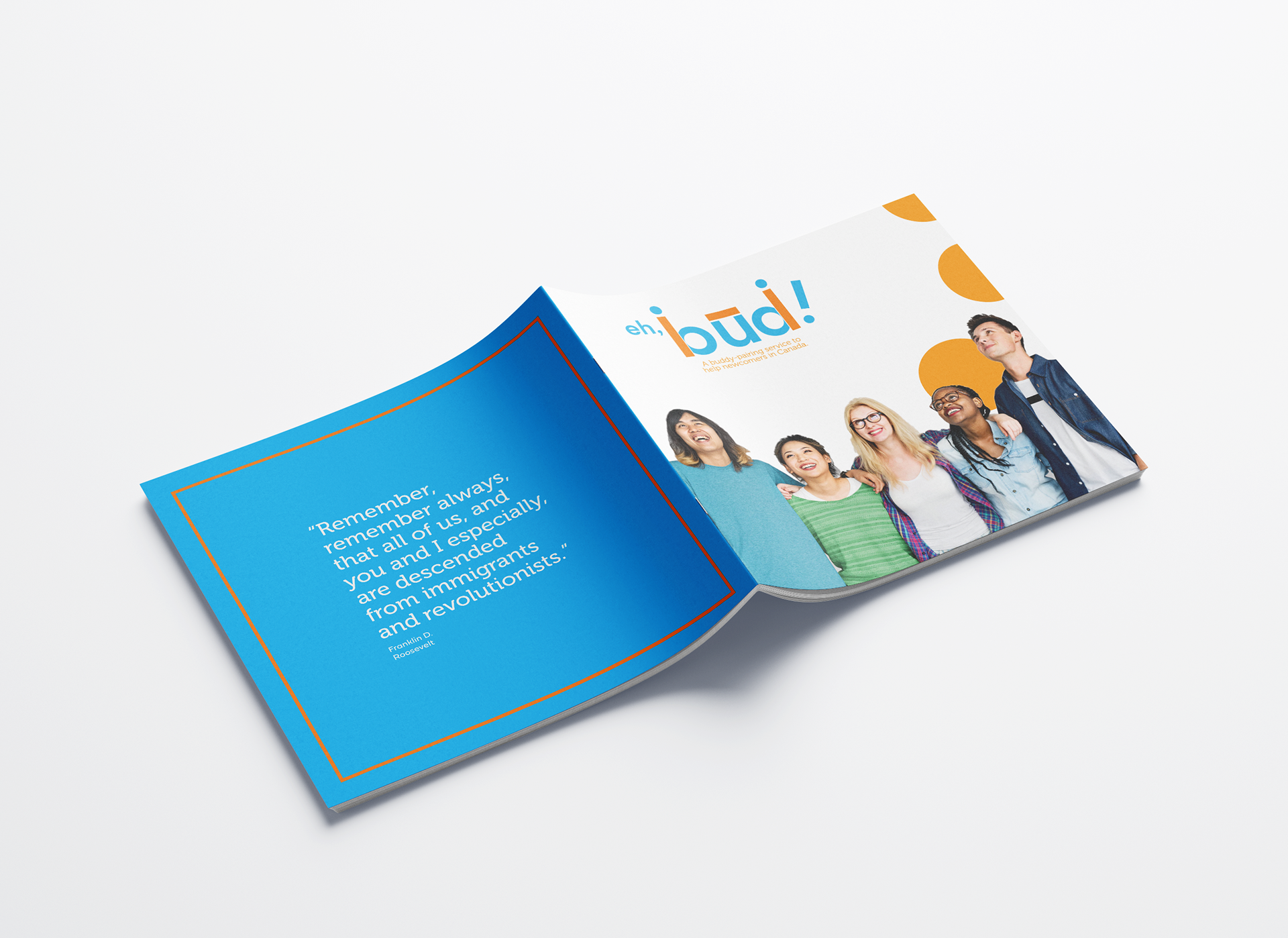 I've designed a pamphlet that contains the information and basic research to help a newcomer in Canada integrate themselves better into society and for a local to have the chance to lend a helping hand.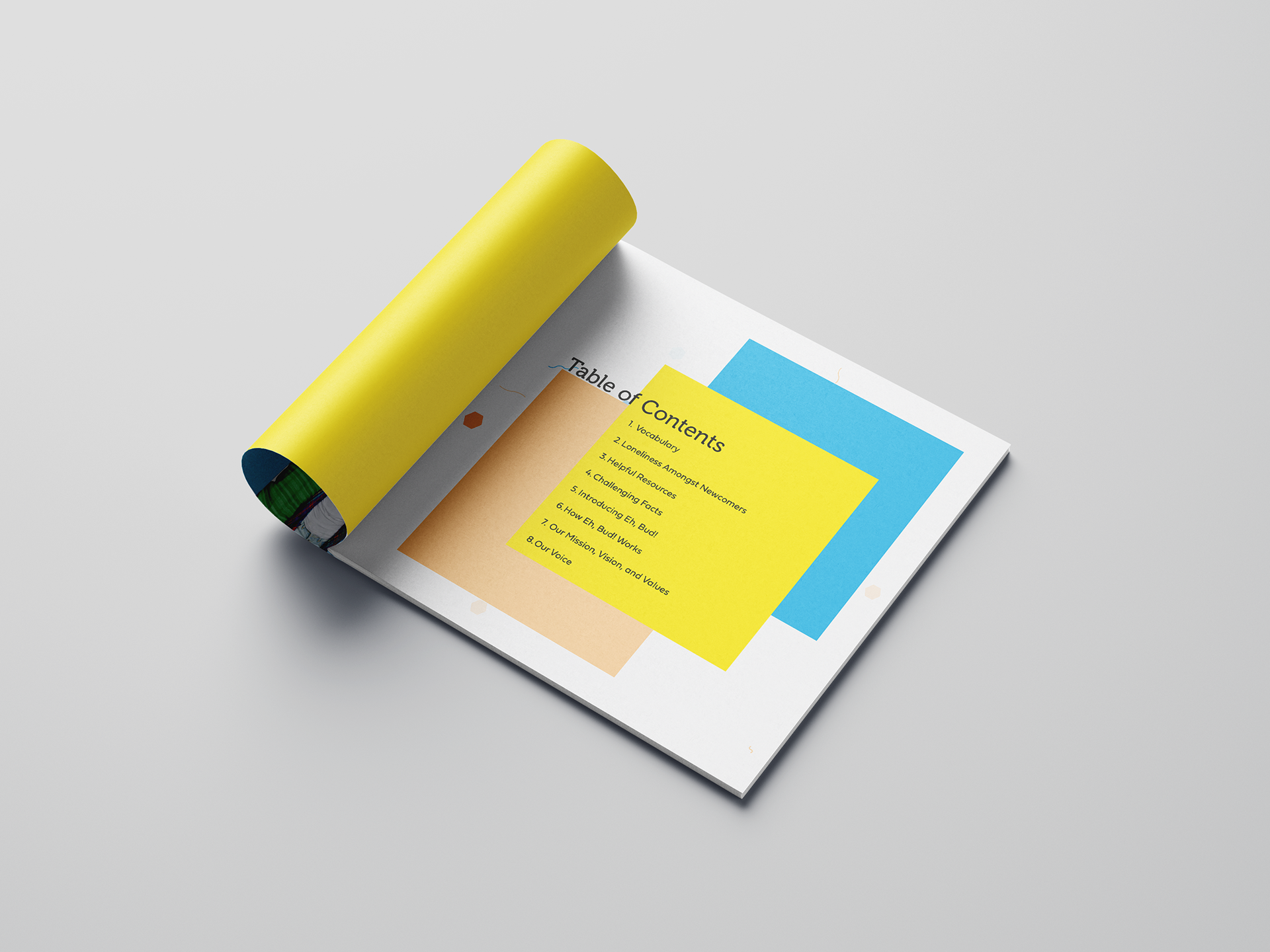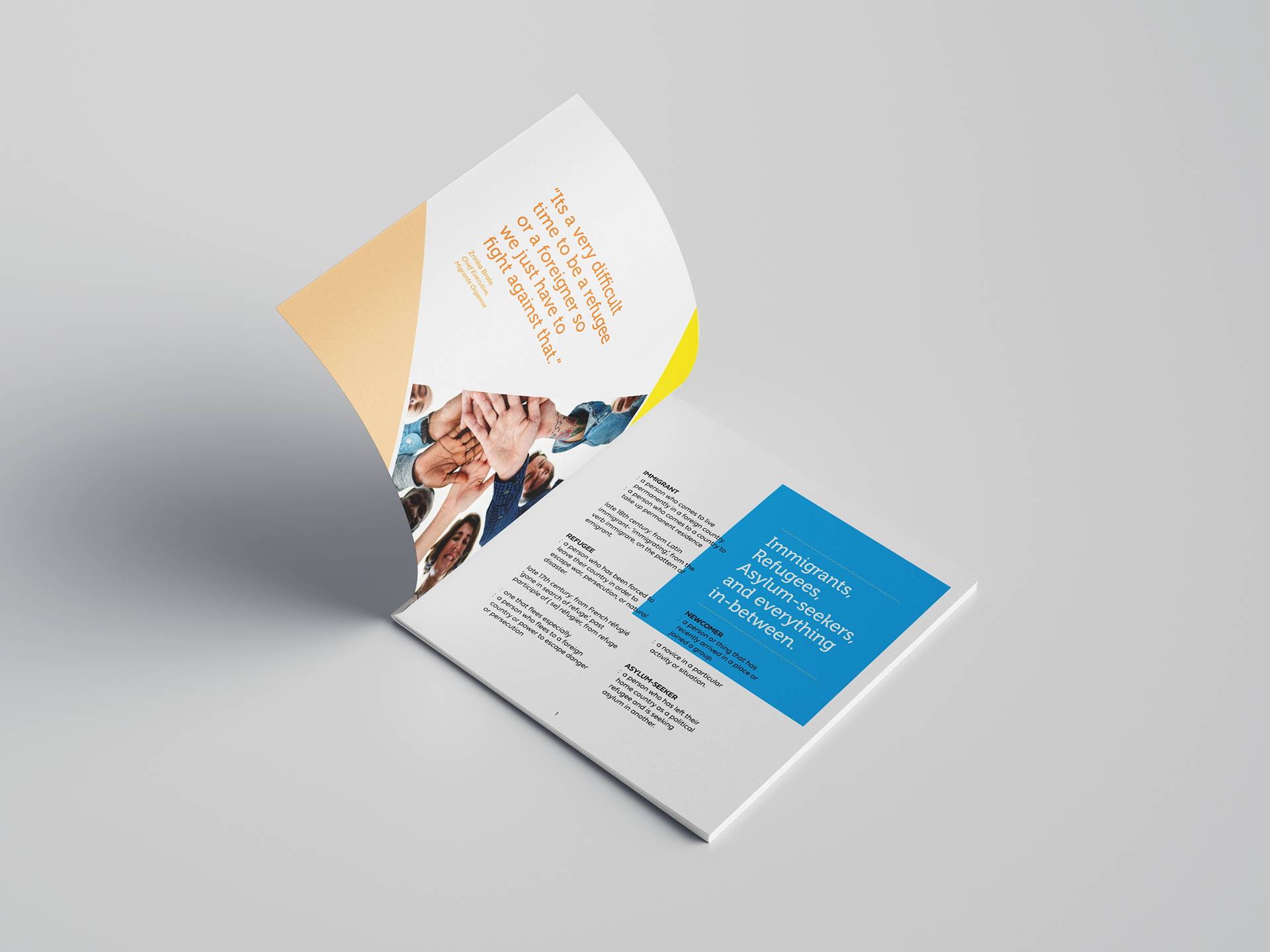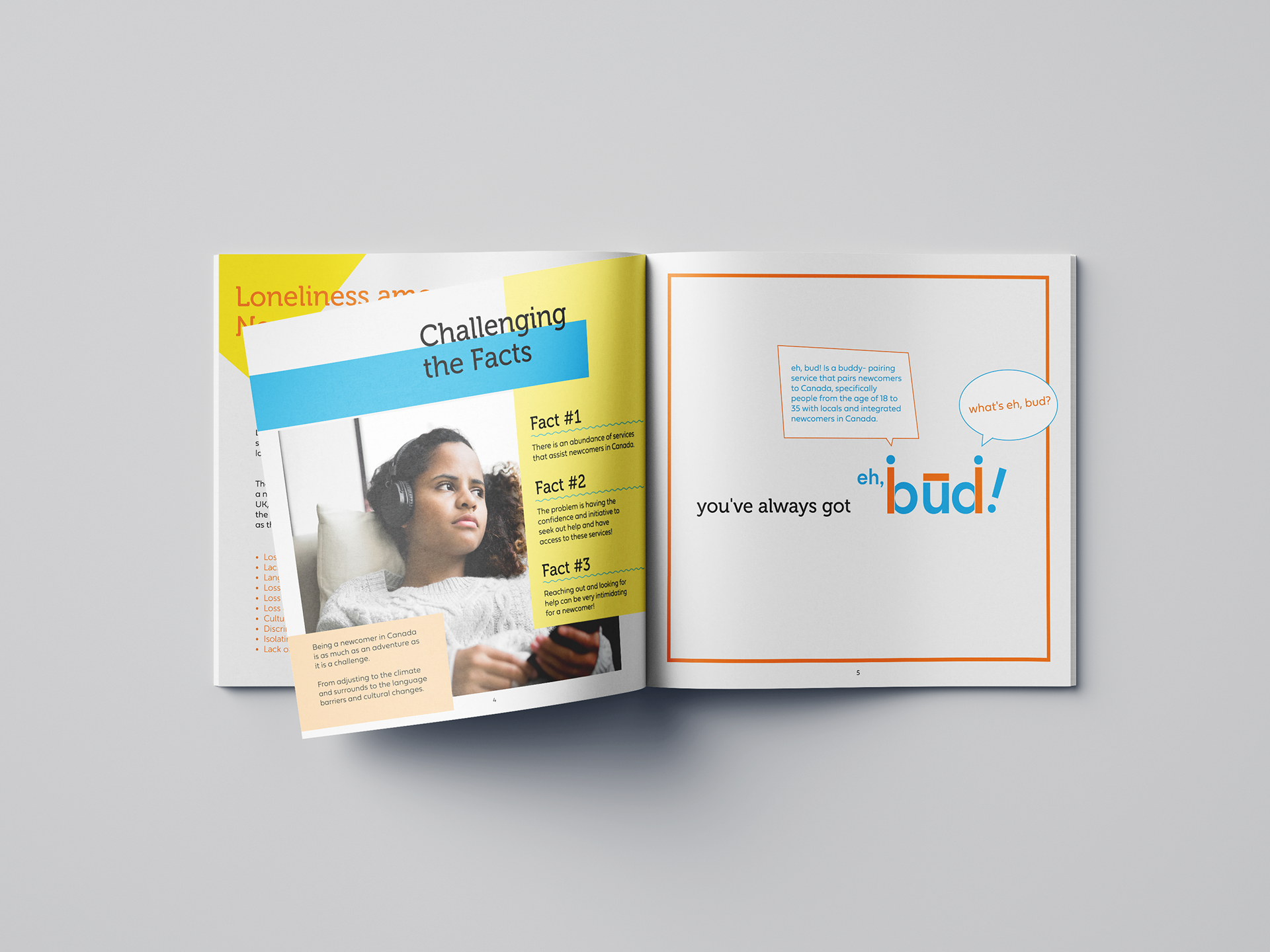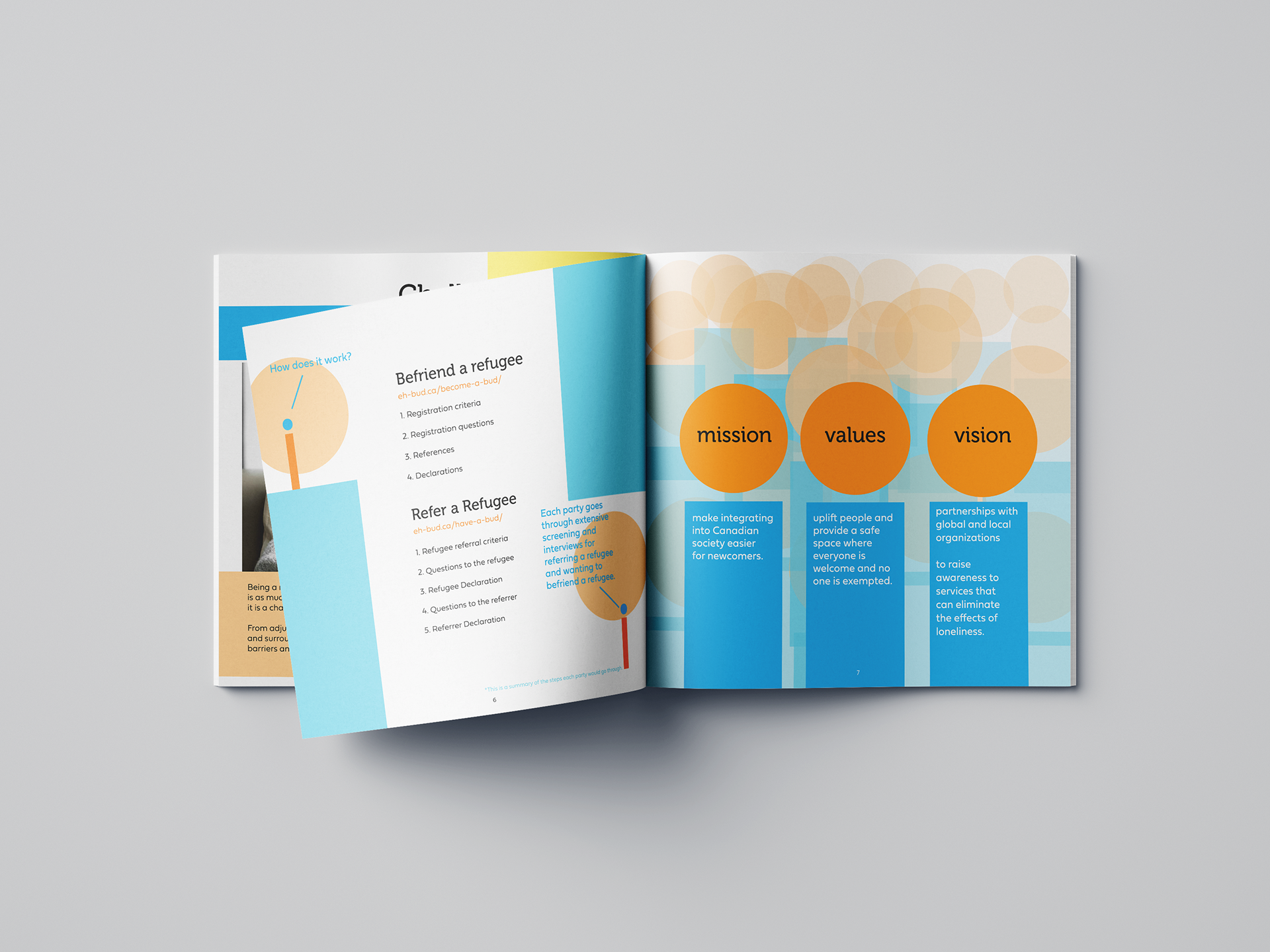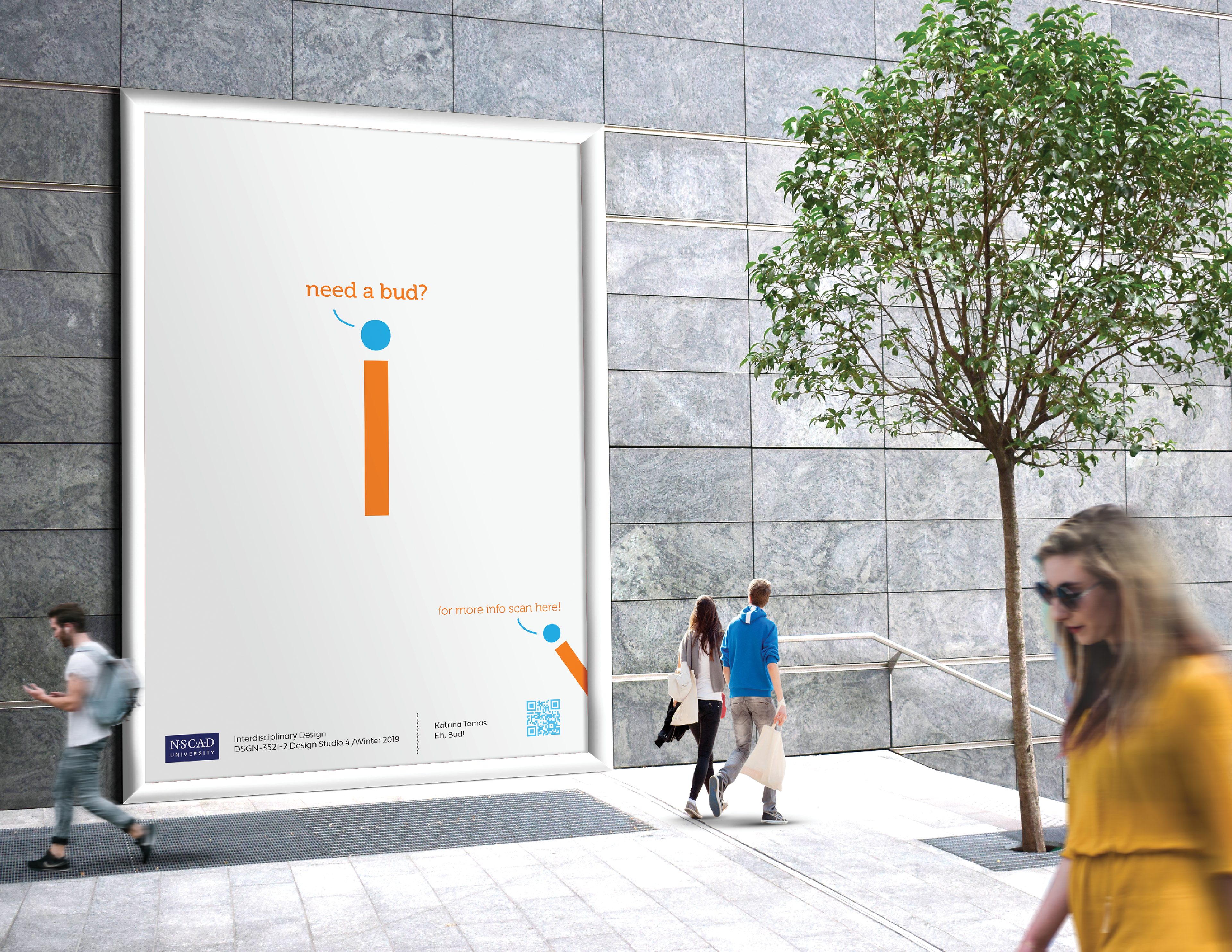 Above is an illustration of a marketing poster I've made to advertise the Eh, bud! service.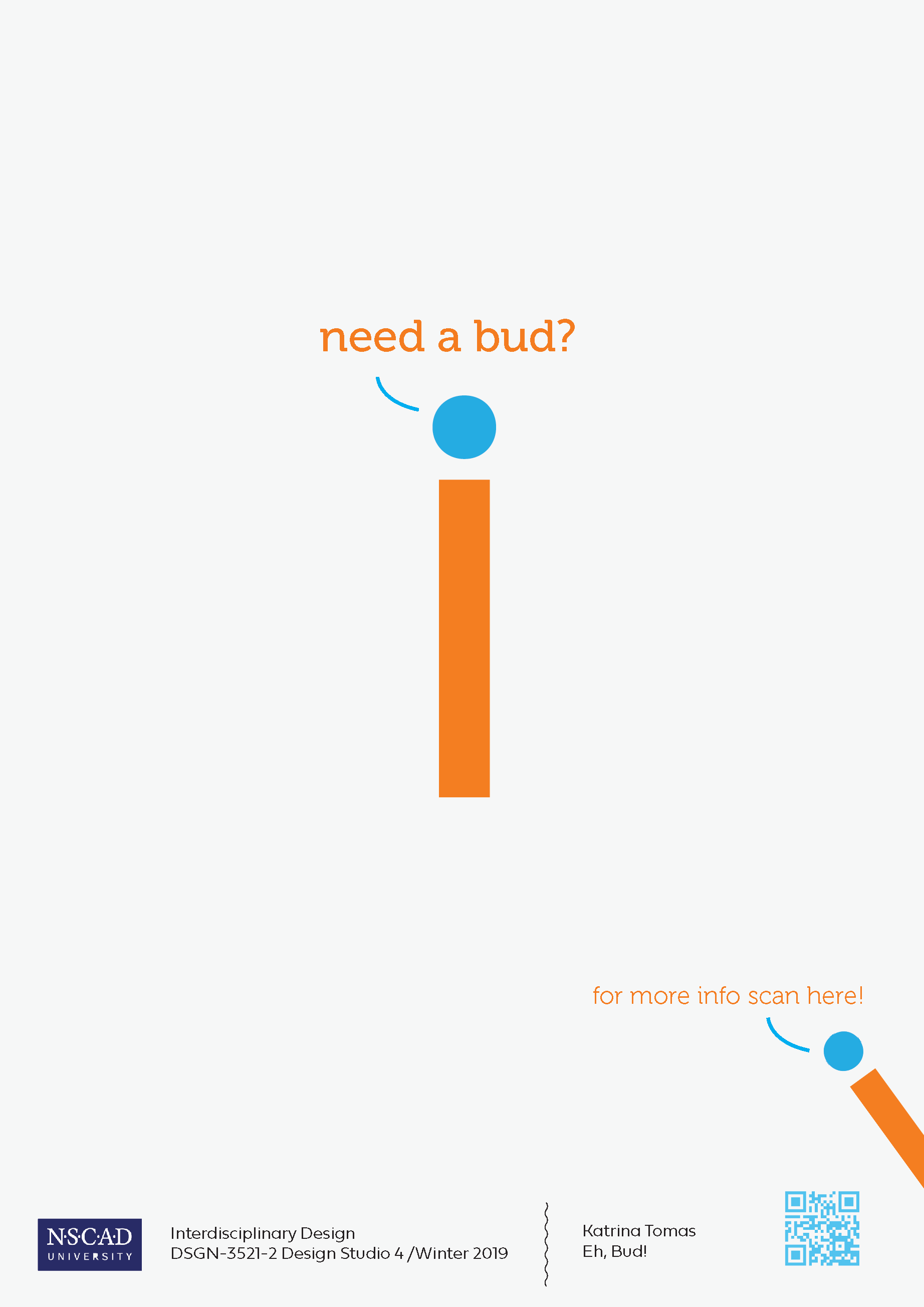 This is a project that aims to be an approachable and fun brand. What better way to communicate
that than through a logo! Here you see a logo that I've design with careful consideration
and advice from my colleagues and professor.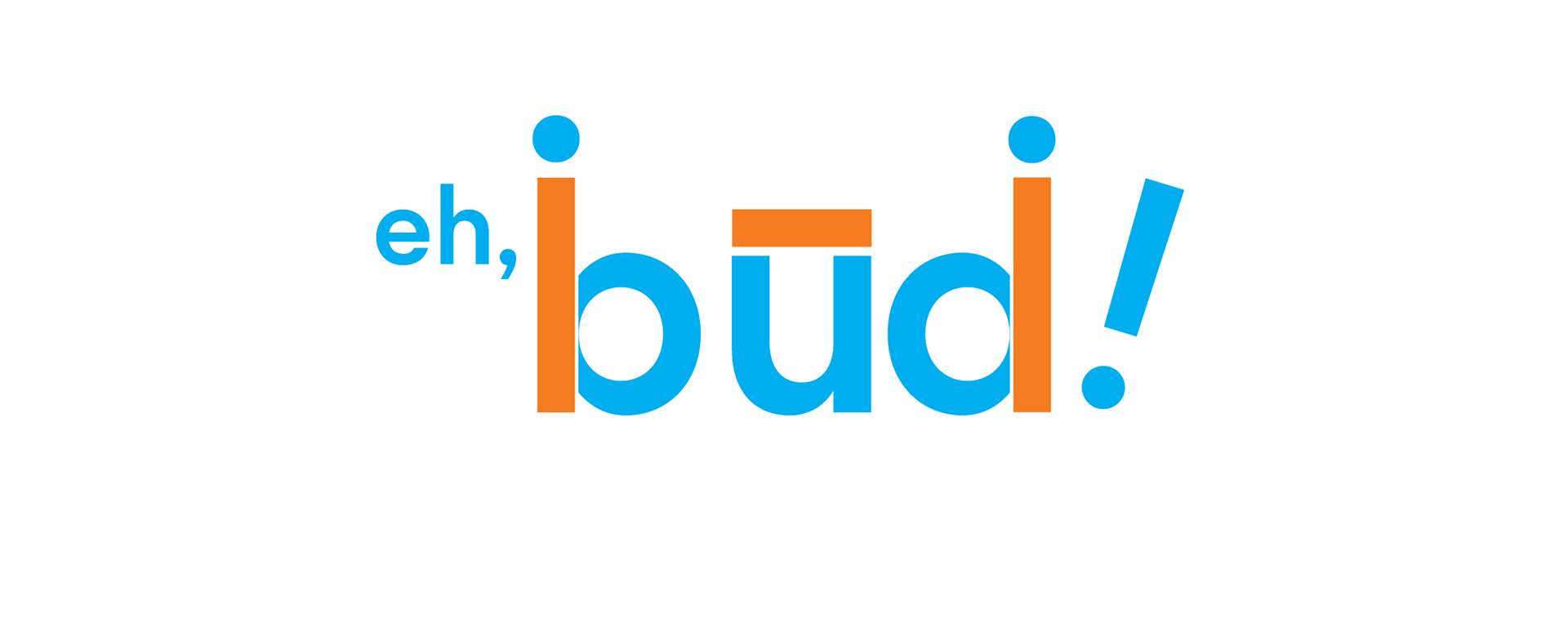 With every good brand comes a vision, mission, and a set of values. These three things will overlap and it will have to to make this service a reality. Our mission is to make integrating into Canadian society a breeze. Through uplifting people, equipping newcomers with skills and experiences without excluding anyone and welcoming everyone. Our ultimate goal is to have partnerships with local and global organizations to raise awareness to the importance of access to services to successfully eliminate the effects of loneliness amongst newcomers to Canada.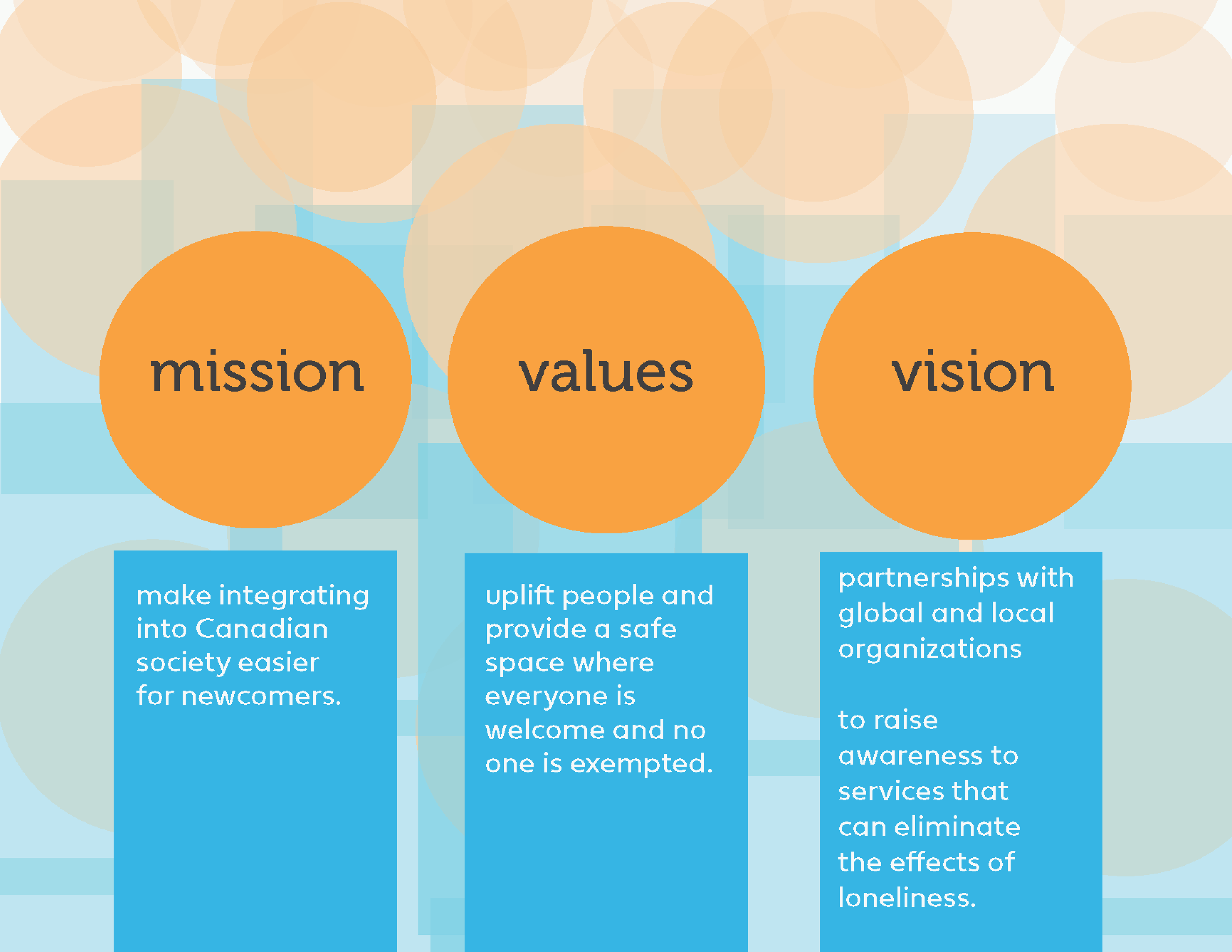 Above is an illustration of the visible elements from the colour selection to the typeface and the symbolisms present in the logo I've designed. 
I used Stratos in medium weight. It shows a professional yet fun and inviting look to the brand and the bright and vibrant colours with its HEX codes at the bottom. The two figures you see represents two people across each other with a table in-between them to represent conversation and interaction between two people. and of course, an "eh" to add a little bit of Canada in there, an easily recognizable element that newcomers can associate to Canada. 
These colours and its HEX codes represent the vibrant and inviting colours that will be used
throughout the brand to keep a consistent message sent across its audience.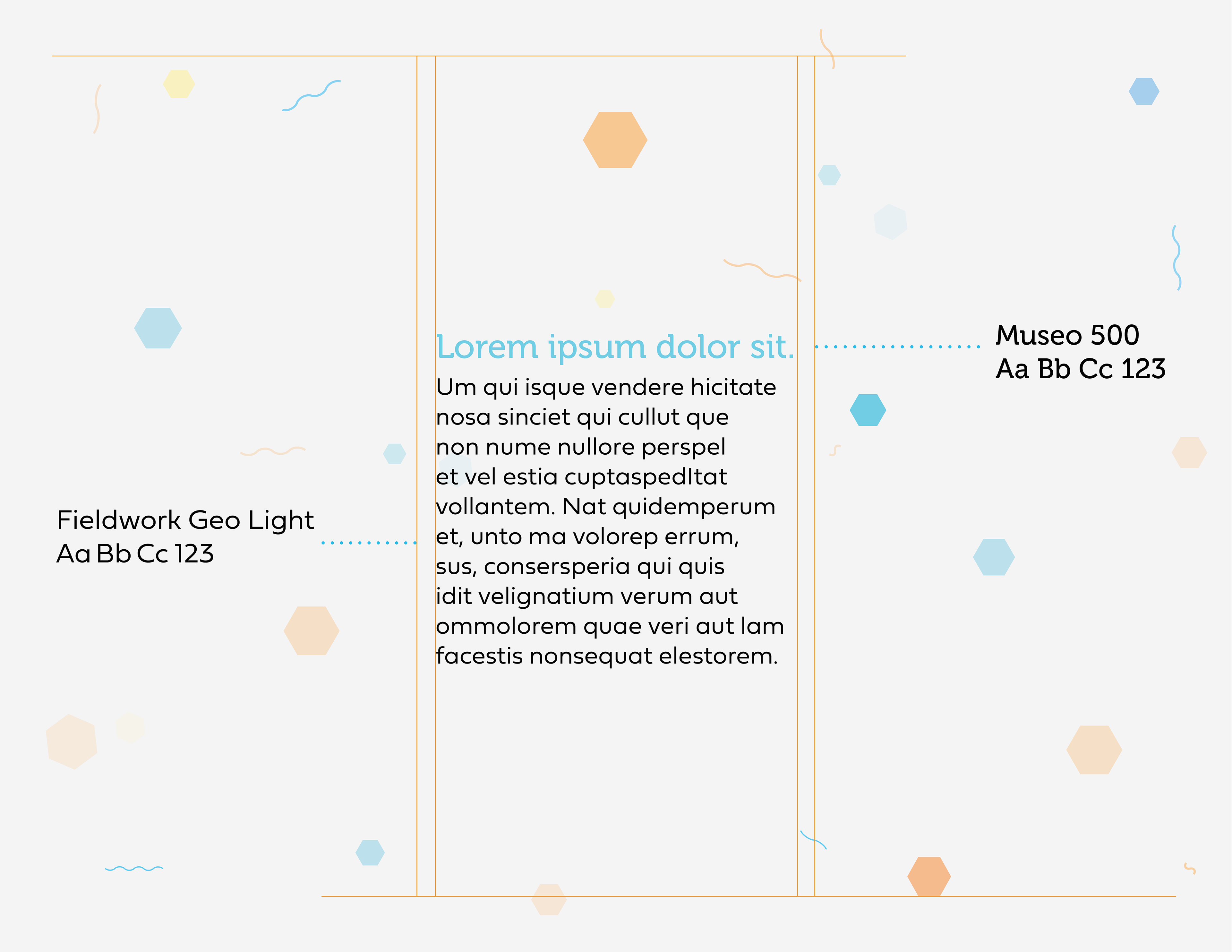 The typefaces I'll be using are Museo in the weight 500 and Fieldwork in Geo Light. Museo will be used as the header because of its friendly serifs and the latter for its commanding yet informative structure. 
The images that you see here is the imagery that I'll be using all throughout the brand. It represents, diversity, engagement and interaction, and happiness.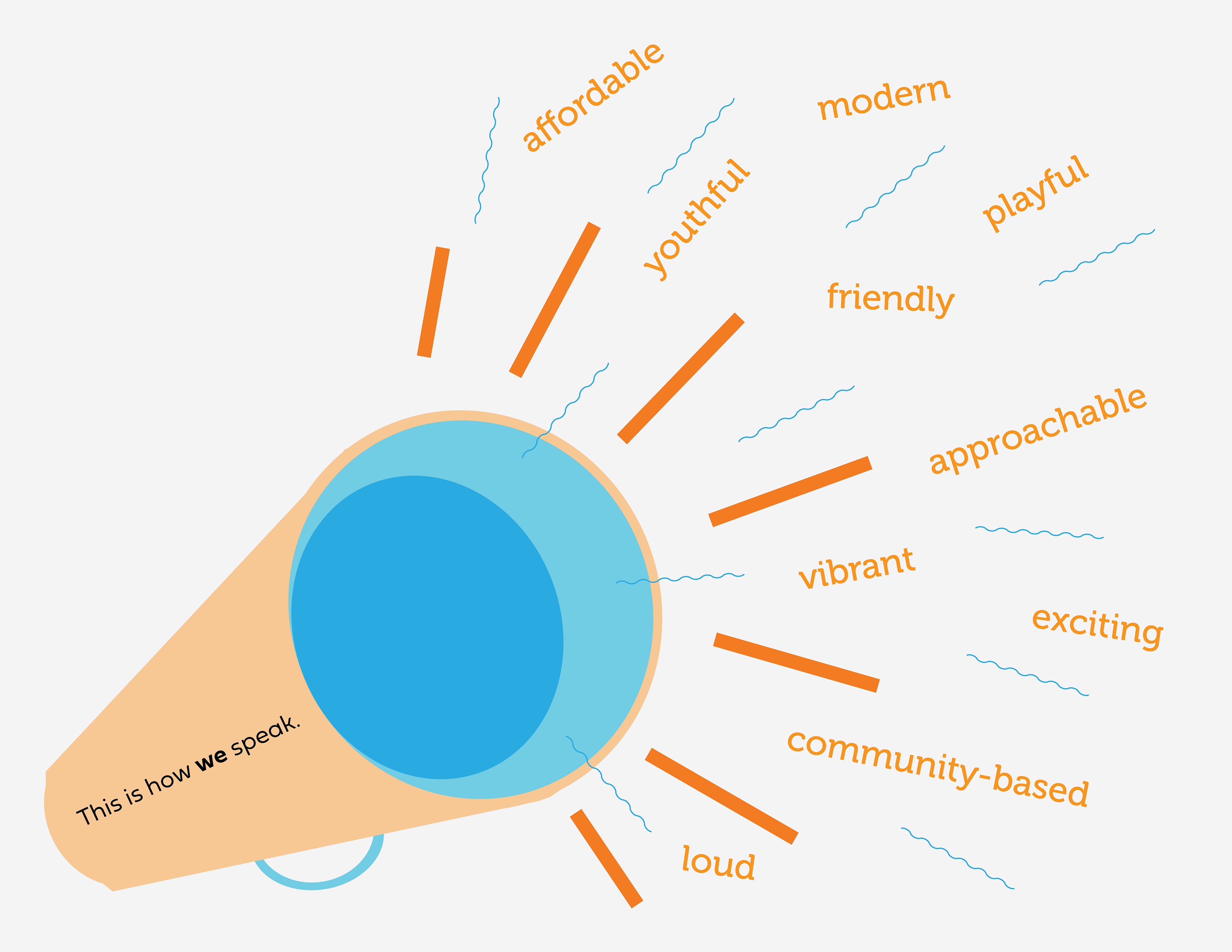 The most important part of our identity is the way we convey our message. What tone and what voice will we be using to clearly convey being friendly, vibrant, and approachable. Emphasis on

we

because this is a community-based project that wouldn't be possible without the help of a bud.